2020 Bowtie Classic raises $29,000 for La Crosse schools
Presented by

Other major sponsors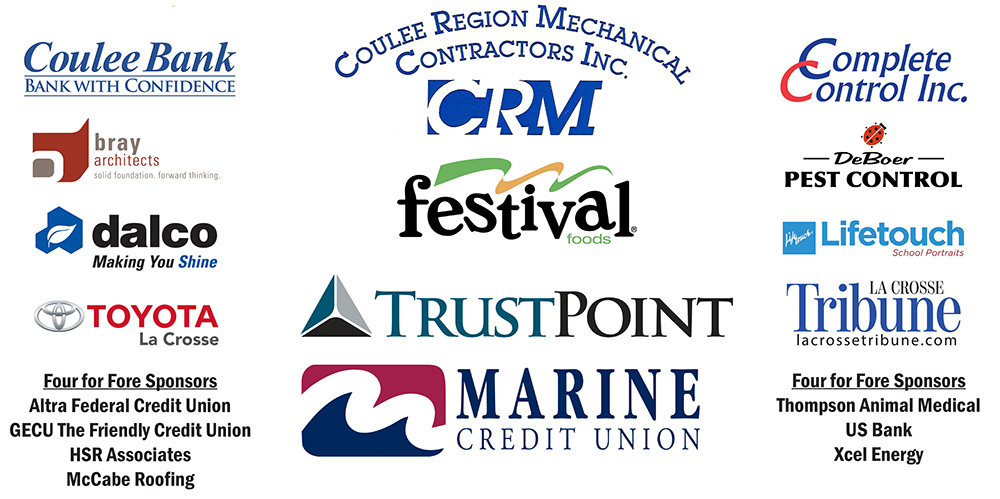 About 100 golfers gathered — social-distance style — on Saturday, Sept. 5 at Forest Hills Golf Course for the eighth Charlie Miller Bowtie Classic Golf Outing and Knowledge Open. Beautiful weather and a fun day raised about $29,000 after expenses at the event that benefits the La Crosse Public Education Foundation.
Our 2020 presenting sponsor was Coulee Region Mechanical Contractors, which provides plumbing, heating and cooling equipment and services for the School District of La Crosse.
The Bowtie Classic recognizes and honors Dr. Charles Miller III, a co-founder of LPEF and a longtime member of the Board of Education in La Crosse. Dr. Miller was a surgeon at Gundersen Health System. He died unexpectedly while playing racquetball in May 2011. His family was represented again at this year's event by daughter Jeanie Everson. The Miller family also provides sponsorship support for the event.
Teams compete not just on golf skills in the scramble format. The event includes a unique feature: the Knowledge Open Challenge. Due to social distancing guidelines, this year adult volunteers asked questions at two holes during the event. Each event foursome, as a team, answers the questions during its round of play. Teams' final scores are based on their golf game as well as their performance on the quiz.
Teams play for the benefit of schools in the School District of La Crosse, with the first-place team winning a $500 grant for a school. Second prize was $250. Third prize was $125 and the highest-scoring team also won $125 for a school.
Here are the winning foursomes:
Photos of the foursomes are courtesy of Kelly Galvan
The 2020 Bowtie Classic was presented by Coulee Region Mechanical.
Other major sponsors included: Festival Foods, Bray Architects, Complete Control, Coulee Bank, Dalco, DeBoer Pest Control, La Crosse Tribune, Lifetouch, Marine Credit Union and Trust Point. 
One lucky golfer had the opportunity to win a new 2021 Toyota Corolla LE  (courtesy of Toyota of La Crosse) by hitting a hole in one on Hole No. 7 during the event.
A special thank you to the family of Dr. Charles Miller III, including Susan Miller, Jeanie Everson, Charlie Miller IV and Heather Marie Miller and their families for continuing support for LPEF and the Bowtie Classic.
 Four for Fore Hole Sponsors (each sponsored four holes)
Altra Federal Credit Union
GECU The Friendly Credit Union
HSR Associates
McCabe Roofing
Thompson Animal Medical Center
US Bank
Waste Management
Xcel Energy
Quiz Sponsors
La Crosse Glass
Mathy Construction
S&S Cycle
Tri-State Carpets
These major sponsors also received recognition as Quiz Sponsors: Bray Architects, Complete Control, Coulee Bank, Coulee Region Mechanical, Dalco, DeBoer Pest Control, Festival Foods, Lifetouch, Marine Credit Union, and Trust Point.
Other Hole Sponsors
Dr. Aaron Engel
Ken French
Mark Glendenning/Margie Webster
Troy & Megan Harcey
Jerry & Nan Kember
Jeff Meyer
Randy & Lynn Nelson
Tim Padesky & Tara Johnson
Barb Schultz
Tom & Judy Sleik
Judy Swantz
Tom & Jean Thompson
Kathie & Rob Tyser
Ronald Bast
Benefit Plan Administrators/3PAdministrators
The Board Store
Brickl Brothers
Citizens State Bank
EO Johnson
Firefighters Credit Union
Five Star Telecom
Hale, Skemp, Hanson, Skemp & Sleik
Klich Electric
La Crosse Area Retired Educators' Association
La Crosse Education Association
Prairie Farms Dairy
Skyward (2)
Strang Patteson Renning Lewis & Lacy
USI Insurance
UW-L Foundation
Bowtie Classic Raffle
More than 1,300 tickets were sold for chances in the Bowtie Classic raffle, which featured 27 prizes. Click here for a complete list of prizes and winning tickets.
Raffle sponsors were: Forest Hills Golf Course, Trust Point and WKBT News 8.
Thanks to the following for donating prizes: Forest Hills Golf Course; Trust Point; WKBT News 8; Central High School; Logan High School; The Arterial; The Charmant; Dr. Aaron Engel; Green Bay Packers; Brandon Prinsen of Johns, Flaherty & Collins; Kwik Trip; Greg and Patty Martin; Cari Mathwig Ramseier; Minnesota Twins; Minnesota Vikings; Rochelle Nicks; Norskedalen; Anna Prinsen; Radisson Hotel; David Stoeffler; Tom Thompson; and Xcel Energy.
Hole contest prizes provided by: CannaBiz Depot; Dublin Square; Northland Golf and Ski; Byron Holz; and David Stoeffler.
Bowtie Classic Chairman: Randy Nelson, retired superintendent of schools. Planning committee: Jerry Kember, Ken French, Troy Harcey, Joe Ledvina, Heidi Odegaard, Keith Stoll, David Stoeffler.
Event volunteers: Margaret Dihlmann-Malzer, Jeanie Everson, Kelly Galvan, Dawn Hemker, Byron Holz, Julie Nelson, Heidi Odegaard, Tom Thompson, Kathie Tyser.