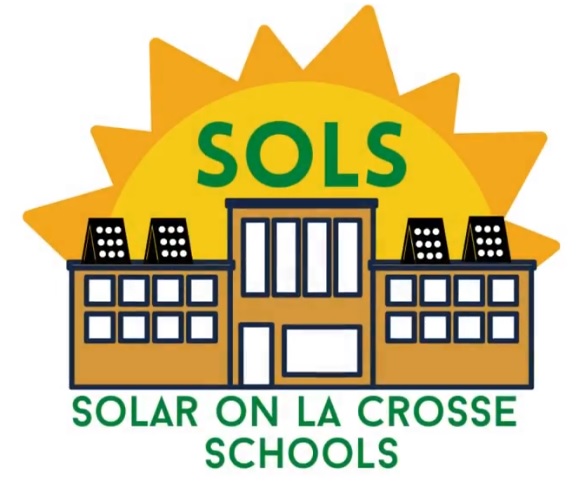 Solar on La Crosse Schools (SOLS) educates, advocates, and fundraises to make solar energy a reality sooner for the School District of La Crosse.

The La Crosse Public Education Foundation (LPEF) is acting as fiscal sponsor for SOLS with proceeds used exclusively to support solar energy education and installation of solar energy systems on La Crosse public schools.

SOLS was started by several La Crosse community members passionate about advancing clean energy and enriching our schools. Switching to solar energy will help cut air pollution and greenhouse gas emissions, reduce energy costs, and provide new sustainability learning resources.

The School District of La Crosse has a tight budget with normal expenses and new COVID-19 needs. SOLS is stepping up to make solar a reality sooner, because our switch to renewable energy can't wait! The School District will pick the projects, large and small, and we'll raise funds with the goal of putting solar on every school in the district. Mike Freybler, the district's energy and transportation manager, is enthusiastic about the effort. "The La Crosse School District plans to continue installing solar at our schools. Not only is solar energy clean and renewable, the systems offer great learning opportunities for our students and our district will save money on energy," Freybler said.

Please join us in helping reduce the impacts of climate change and begin transitioning our community to a sustainable energy supply. What better place to start than on schools? Make your tax-deductible donation today and help us build a brighter future!

Visit our website www.solaronlacrosseschools.org for further information and project updates.
To donate by check:
Mail to:   
LPEF/Solar on La Crosse Schools
PO Box 1811, La Crosse, WI 54602

•For donations larger than $1,000, LPEF and SOLS strongly encourage gifts by check as this reduces administrative fees.

•LPEF also accepts donations of stock, qualified IRA charitable distributions and other types of gifts. For information, contact the LPEF office at (608) 787-0226.
What happens with your donation?
After administrative fees, proceeds go to the School District of La Crosse for installation of solar systems on schools, or for educational projects to promote the use of solar energy. To cover its administrative costs:

•LPEF retains 10% of online donations, less any amounts added by donors to offset bank fees.

•LPEF retains 7% of the first $1,000 of donations made by check or other means.