Students from Hamilton Elementary School are sampling produce, planting seeds and being entertained by farm animals during field trips this week to Deep Roots Community Farm.
The tours are being funded by a $1,264 grant from the La Crosse Public Education Foundation, underwritten in part by proceeds from the Dr. Gunnar and Mary Baldwin Gundersen Memorial Fund at the La Crosse Community Foundation.
On Monday, Aug. 3, two classes of Hamilton third-graders visited the 170-acre farm, which follows organic and sustainable farming practices. The farm is on property managed by Ana and Andrew Skemp.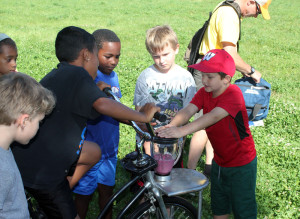 Other classes will visit daily through Thursday, Aug. 6. Farm visits are organized by Grow La Crosse, a nonprofit whose mission is to connect children to healthy food and nature. A major sponsor of Grow La Crosse is another LPEF corporate partner, Mayo Clinic Health System – Franciscan Healthcare.
Children were introduced to various native plants and garden vegetables. They could pick and eat fresh tomatoes and kale, then made smoothies mixing fruit and vegetables. Students powered the blender by pedaling a stationary bike.
Students also got up an up close look at pigs, horses, chickens and other animals.
Each was sent home with a bag of fresh produce and recipes to share with their families.
RELATED MEDIA COVERAGE
Hamilton students spend a morning on the farm • La Crosse Tribune • Aug. 4, 2015 (funded with LPEF grant)
Hands-on Farming Lessons • WKBT • Aug. 3, 2015 (funded with LPEF grant)