Annual grants luncheon recognizes innovation in public schools

Support for school gardens, summer school literacy, microscopes that attach to iPads and the latest welding equipment were among 17 grants totaling nearly $31,000 honored Jan. 19, 2015 at the La Crosse Public Education Foundation (LPEF) Grants Award Luncheon, presented by Festival Foods.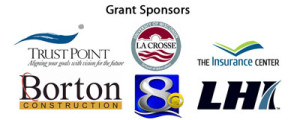 The 17 grants recognized in January were chosen from among 28 applications totaling more than $90,000 in requests.
Grants are selected for funding based on creativity, ability to engage students and bring real-life experiences into the classroom within the School District of La Crosse.
"Each year, we're amazed at the innovative proposals and other proven practices we know will engage our school children and enhance learning," said Greg Bonney, LPEF Board President and an attorney at Johns, Flaherty & Collins. "It's a tough challenge to narrow it down from so many worthy applications."
For a complete listing and short description on grants approved in the first round, and recognized during the Grants Award Luncheon Jan. 19, see this story: $31,000 in grants support innovation in schools.
The featured speaker at the 2015 luncheon was Jeff Fleig, principal at Central High School, who provided an overview of AVID — Advancement Via Individual Determination — a college-readiness program that was introduced in the School District of La Crosse in the fall of 2014. The presentation featured this video on AVID.
In addition to the annual grants to classrooms, LPEF provides other support for La Crosse public schools, including nearly $22,000 to help students overcome roadblocks to achievement in areas such as nutrition, transportation and co-curricular support. The La Crosse Public Education Foundation's mission is to enhance learning opportunities for students in the School District of La Crosse and to promote community understanding and support for public education.