After two years, students in the AVID college-readiness program in La Crosse public schools continue to show strong academic progress, with grade point averages and rates of enrollment in high-level academic courses significantly ahead of their non-AVID peers.
Most importantly, as nearly 50 diverse students get ready for their senior year of high school, they are well ahead of their peers in terms of likely graduation. They are gaining important skills that will help them succeed in college and in careers, and gaining confidence that college is within their reach.
For many, it's a major shift in their outlook on life, and on their aspirations for the future. One student was asked, "Why do you want that college degree?" The response: "Because the police can come and take away your home, but they can never take away your college degree."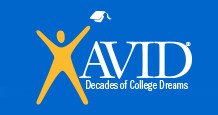 These are the headlines from a report prepared by the La Crosse Public Education Foundation (LPEF) on implementation of AVID – Advancement Via Individual Determination – which has completed its second year, serving students in grades 9 through 11 at La Crosse Logan and Central high schools.
During the upcoming 2016-17 school year, added sections in 9th grade mean AVID will be offered at all four grade levels.
Among key results in the second year:
At both schools, AVID students were more likely to be students of color and students from low-income families, fulfilling a goal to reach students who are under-represented in college enrollment and graduation rates. At Central, 57% were students of color, compared to 19% for the entire school. At Logan, 54% were non-white, compared to 30% for the school. More than two-thirds of Logan AVID students, and more than half of the Central participants, were from families who qualified for free-reduced price lunch.
The average GPA for AVID students continued to be significantly higher than for non-AVID students. At Central, the average GPA was 3.09 (compared to 2.86 for other students). At Logan, the average GPA was 3.29 (compared to 2.98 for all students).
Average attendance rates for AVID students was greater than for non-AVID students.
AVID-trained educators teach skills that help students succeed in college. Students enroll in an AVID Elective Class each semester. They learn specific skills for organizing the work in all of their other classes. They learn specific writing, inquiry, and critical thinking skills, along with note-taking and study skills that are proven to aid with retention and higher-level thinking. These skills are applied to their subject-area classes. In addition, students participate twice each week in tutoring sessions that emphasize collaboration and group problem-solving skills in high demand in today's workplaces.
AVID helps students set high expectations. Students are required to take at least one advanced-placement or honors class and are encouraged to do so every semester. Students also receive exposure to college through campus visits and through class presentations from colleges, community members and alumni. As juniors and seniors, they learn more about the college application process, including help with writing letters or essays, completing pre-college testing, and applying for financial aid and scholarships.
Students say AVID is different from other classes and gives them a sense of community. They consistently list the "family atmosphere" as a key reason they love AVID, and also look to the adult role models and speakers as critical to their growth.
Students enjoy and gain important skills through volunteer and service-learning opportunities. At Logan, students provided tutoring to Northside Elementary students, participated in the Polar Bear Plunge, and helped with a project to fight hunger. At Central, students rang bells for The Salvation Army, volunteered with the La Crosse Jaycees on Neighbor's Day, and helped at the Coulee Region Humane Society.
Motivational speakers are vital to keep students believing in and reaching toward their goals. Students always take something away from their speakers, such as a Logan presenter who said: "Smart is not something you are; it's something you become."
Start-up costs for the program are being covered through a $230,000 fundraising campaign led by LPEF. The effort was jump-started by a $125,000 three-year grant from the Otto Bremer Foundation of St. Paul, Minn.
The La Crosse Community Foundation kicked off local fundraising with a $30,000 gift. The Robert & Eleanor Franke Foundation provided a challenge grant, providing a gift of $25,000 after LPEF successfully raised $45,000 from other community sources. Other major local contributors include: Dahl Family Foundation, Dairyland Power Cooperative, Festival Foods, Fowler & Hammer Fund, Gundersen Health System, Kwik Trip, Mayo Clinic Health System – Franciscan Healthcare, the Rotary Works Foundation, the Russell and Vera Smith Foundation, and State Bank Financial. Individual donors contributed almost $5,000.