ORDER NOW: Compassion Project book available for $15. Only pre-paid orders accepted through March 20. For details and to get an order form, click here.
For 5th-grader Clayton Rauch, "compassion is making people feel better."
To 1st-grader Ayden Townsend, compassion is about "showing love."
Elizabeth Kreibich, a high school junior, urges compassion for animals, to "show them the love that they show us."
Erik O'Brien, a 6th-grader, thinks his teachers are compassionate. "They help me."
Meanwhile, 3rd-grader Alex Xiong thinks compassion is about helping others. "When I help somebody I feel happy."
These five students (see their work and full comments at the bottom of this post) were among more than 6,000 children in the School District of La Crosse who participated in the La Crosse Compassion Project during the 2013-14 school year.
The project culminated in an eight-week exhibit at the Pump House Regional Arts Center where thousands of children, parents and community members enjoyed the collective view of how students visualize compassion.
The Compassion Project was a joint effort of the La Crosse Public Education Foundation, the School District of La Crosse and the Pump House.
In fall 2013, participating students received a 6-inch-by-6-inch canvas art panel and were asked to draw or paint their idea of compassion. Additionally, students were asked to write a brief statement about their work. The project aspires to teach the practice of compassion through the use of art and writing.
One district staff member involved in the project, Lincoln Middle School Counselor Rick Blasing, described his work with students in a moving column in the La Crosse Tribune. "Compassion is truly an equal opportunity emotion," Rick wrote.
The inspiration behind the project came from Richard Davidson, Ph.D., a University of Wisconsin-Madison psychology and psychiatry professor and brain researcher who has scientifically found that those who practice compassion have measurably healthier brains, and generally, a happier outlook on life.
Davidson's ground-breaking research on healthy qualities of mind — such as kindness, compassion, altruism, forgiveness, mindfulness and well-being — is conducted through the Center for Investigating Healthy Minds at the Waisman Center at UW-Madison.
Dr. Davidson made a presentation June 2 as part of the La Crosse Compassion Project LIVE! event at Viterbo University. The evening was made possible through the cooperation of The Wisconsin Academy of Sciences, Arts and Letters and with additional support from the Robert and Eleanor Franke Foundation. Check out a recording of the event here, courtesy of WKBT News 8000.
During the event, this video of His Holiness the Dalai Lama was shown. In this recording, His Holiness responds to the Compassion Project "movement" in Wisconsin, which began with the Appleton Compassion Project in 2011.
The La Crosse Compassion Project has generated tremendous community response, including extensive news coverage, particularly from the La Crosse Tribune and WKBT News 8000. WKBT built on the project by launching its own "pay it forward" campaign to inspire compassionate acts by recognizing people in the community who are making a difference.
The La Crosse Public Education Foundation was honored, along with the School District of La Crosse and the Pump House Regional Arts Center with a "Special Recognition" award from the La Crosse Area Development Corp. This award called the La Crosse Compassion Project "one of the La Crosse area's most remarkable initiatives in years."
Due to the popularity of the exhibit, the La Crosse Public Education Foundation has created a small traveling exhibit of canvas tiles from students (whose parents have given permission to the Foundation to keep the canvases), plus some special tiles created by community members. In addition, some exhibits may include tiles created by children from Dubna, Russia, a sister city to La Crosse. This portion of the exhibit is made possible by support from the La Crosse Dubna Friendship Association.
Follow the La Crosse Compassion Project on Facebook.
Download information about the traveling exhibit — Canvassing the Community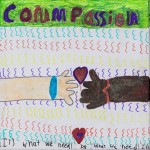 My artwork is about how everyone should be treated the same. I think my work shows compassion because a helping hand is what we need. Compassion is making people feel better. – Clayton Rauch, 5th grade
 I show compassion by showing love to my cousin and my mom and dad. I love everyone in my family. My artwork stands for love. – Ayden Townsend, 1st grade 
My painting is of a woman sitting in a bright happy area surrounded by the darkness of the world. She is holding a small, fragile cat in her arms; protecting her from the hatred that the world shows towards her and other animals. People in this world should treat animals with love and respect. I have had multiple animal companions throughout my life have loved every one of them to death. We need to live as one with animals of the world and show them the love that they show us. — Elizabeth Kreibich, 11th grade
My teachers are kind. They help me. – Erik O'Brien, 6th grade
I liked making this. One person is giving another person a tissue. When I help somebody I feel happy. — Alex Xiong, 3rd grade