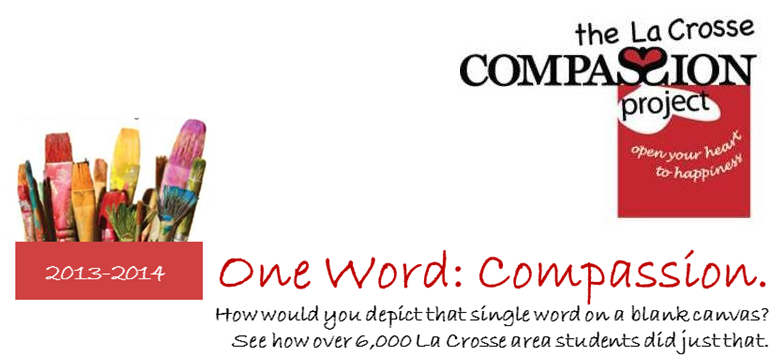 Printable Project Overview Here
Project Overview: The La Crosse Compassion Project is a project involving over 6,000 La Crosse School District K-12 art students. In fall 2013, participating students will received a 6-inch-by-six-inch art panel and were asked to draw or paint their idea of compassion. Additionally, students were asked to write a brief statement about their work. The project aspires to teach the practice of compassion through the use of art and writing.
The inspiration behind the project came from Richard Davidson, PhD – a University of Wisconsin-Madison psychology and psychiatry professor and brain researcher who has scientifically found that those who practice compassion have measurably healthier brains, and generally, a happier outlook on life.
Compassion Project Exhibition Information: Collectively, the more than 6,000 art panels will be installed in The Pump House Regional Arts Center galleries, on view for the public, from May 2 – June 28, 2014.
Pump House Regional Art Center
119 King Street
La Crosse, WI 54601
Hours:
Tue – Fri: 11 am – 7 pm
Saturday: Noon – 4:00pm
And by appointment
Website & Technology: Beginning in May 2014, site visitors will be able to view high-resolution images of the completed art panels online, along with a brief artist description. Mobile applications, which also allow users to search and browse works of art and statements will also be developed if funding permits.
Other Events: Organizers encourage and invite other area schools, colleges, universities, the City of La Crosse, area non-profit organizations and business to participate or schedule other events which may include: lectures, concerts, film presentations, family activities and "Family Compassion Action Days" throughout the Coulee Region.
Coordinating Organizations: The La Crosse Public Education Foundation, the La Crosse School District and the Pump House Regional Arts Center.
Celebrity Involvement: A number of high profile celebrities have been or will be invited to participate in the La Crosse Compassion Project by submitting their own art panel with their interpretation of "compassion." More information will be revealed as celebrities agree to participate.