Did you know the vast majority of children are involved in the bullying experience — as victims, bystanders or children who bully — during their school-age lives? No single person or group can prevent or reduce bullying behavior alone. It takes everyone to make a difference.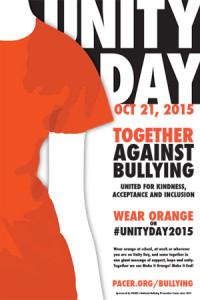 Throughout October, particularly on Unity Day, Wednesday, Oct. 21, the Coulee Region Compassion Alliance wants everyone to wear orange and unite against bullying. The La Crosse Public Education Foundation and the School District of La Crosse are among the partners involved in the Coulee Region Compassion Alliance.
"Bullying has been shown to negatively impact a child's physical and mental health in both the short and long term. By providing education and awareness, we feel that we can be part of the solution. There's no better time to start than during Bullying Prevention Month in October," says Kris Edwards, program director, Gundersen Health System Pediatrics and co-founder of Coulee Region Compassion Alliance.
In a column in the La Crosse Tribune, Jeff Reiland, a child and family therapist at Gundersen, notes that La Crosse has been a leader in bullying prevention efforts through efforts like the Compassion Project. "Last year, children participated in a major community project that allowed them to express their sentiments about the bullying solution through art. It was called The Compassion Project, and children created more than 6,000 canvas tiles of art, expressing through pictures and symbols their understanding of compassion. The sheer volume of tiles was inspirational. These are wonderful images of compassion that exist in the minds and hearts of our children."
Unity Day on Oct. 21 is a day for everyone to come together — in schools, workplaces, communities and online — and send the message that we're united against bullying and united for kindness, acceptance and inclusion.
Anyone throughout the community who is wearing orange is encouraged to email photos to WKBT News 8 La Crosse at news8@wkbt.com. Photos, as well as stories of compassion and bullying prevention, will be featured on WKBT throughout October. So, inform your family and friends, and don't forget to sport your orange.
Also planned during October is a bullying prevention proclamation by La Crosse Mayor Tim Kabat. This community event will be held Thursday, Oct. 8, at noon at La Crosse City Hall; all are welcome to attend.
For more information about bullying, visit togetheragainstbullying.org. The website, designed for students, parents and teachers, offers guidelines for cell phones, texting and the Internet; helps visitors understand the effects of bullying; and offers suggestions for changing behavior. To learn more about the Coulee Region Compassion Alliance or to become a member, contact Kris Edwards at (608) 775-3871.