Honor District retirees with a gift to support La Crosse Public Schools today!
You're invited to honor these 36 retiring staff members with 932 combined years of service to the School District of La Crosse by making a gift to LPEF.

Your gift to LPEF in honor of an SDLC retiree will:
Thank retiring teachers and/or staff for their service to education
Support enhanced educational experiences in the School District of La Crosse
Meet student needs through Random Acts of Kindness
The retiree honored with the greatest number of gifts will have a classroom or staff training grant awarded in their name at LPEF's Grants Award Luncheon in January 2023. For each gift of $35 or more, a retiree receives a complimentary ticket (limit 4 each) to the luncheon.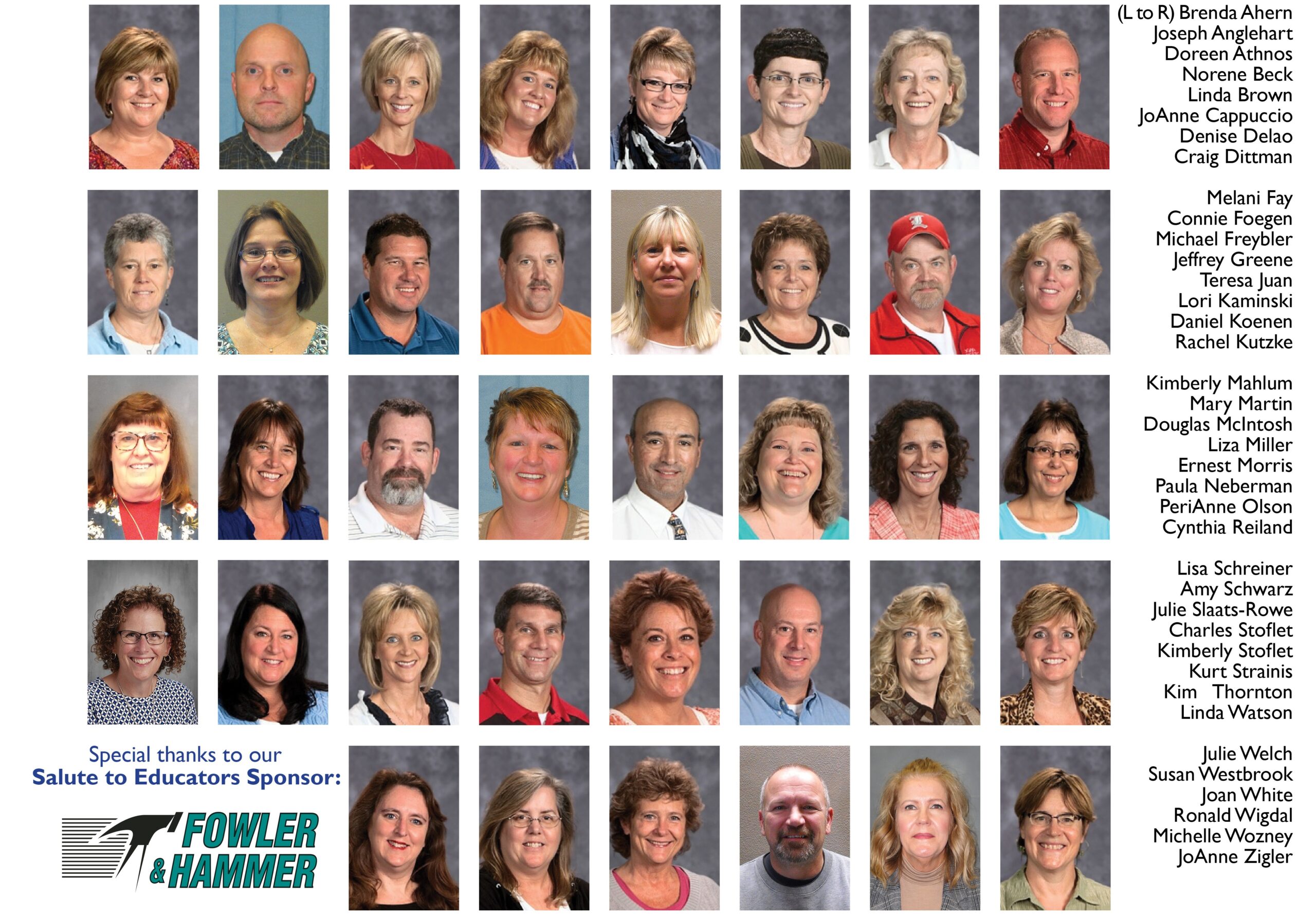 With support from our Salute to Educators Sponsor Fowler & Hammer, LPEF helps to underwrite the cost of the District Retirement Dinner, and also partners with the La Crosse Tribune to publicly recognize retiring employees in a full-page ad published in mid-May.
Retirees, most recent position and years of service to the School District of La Crosse
Brenda Ahern, Kindergarten Teacher, Southern Bluffs, 25 years
Joseph Anglehart, Science Teacher, Central, 23 years
Doreen Athnos, Music Teacher, Logan HS, 30 years
Norene Beck, Administrative Assistant (Bookkeeper), District, 34 years
Linda Brown, Teacher Assistant, Central, 33 years
JoAnne Cappuccio, ESL Teacher, Logan HS, 37 years
Denise Delao, Cook, Hintgen, 30 years
Craig Dittman, EBD Teacher, Central, 22 years
Melani Fay, Guidance Counselor, NS/Coulee Mont, 38 years
Connie Foegen, Benefits Coordinator, Hogan, 10 years
Michael Freybler, Energy/Transportation Manager, Hogan, 38 years
Jeffrey Greene, Custodian, Emerson, 37 years
Teresa Juan, Integrated Support Assistant, District, 24 years
Lori Kaminski, Math Teacher, Logan HS, 37 years
Daniel Koenen, Craftsman, District, 21 years
Rachel Kutzke, Teacher  , Lincoon MS, 30 years
Kimberly Mahlum, School Nurse, Hogan, 11 years
Mary Martin, Teacher Assistant (Health Aide), Hintgen, 20 years
Douglas McIntosh, NET SYS Manager, Hogan, 22 years
Liza Miller, Teacher Assistant  , Multiple, 14 years
Ernest Morris, Science Teacher, Logan HS, 25 years
Paula Neberman, 3rd Grade Teacher, Hintgen, 16 years
PeriAnne Olson, Special Learning Disabilities, Logan HS, 25 years
Cynthia Reiland, EC Teacher, Hamilton, 33 years
Lisa Schreiner, Principal, Southern Bluffs, 30 years
Amy Schwarz, English Teacher, Central, 29 years
Julie Slaats-Rowe, Guidance Counselor, Logan HS, 31 years
Charles Stoflet, Teacher, Central, 23 years
Kimberly Stoflet, Teacher, Lincoln , 31 years
Kurt Strainis, English Teacher, Central, 22 years
Kim   Thornton, Title I Reading Teacher, Hintgen, 24 years
Linda Watson, Library Media Spec/Talented & Gifted Teacher, Lincoln/Sota/Coul, 32 years
Julie Welch, 6th Grade Teacher, Logan MS, 31 years
Susan Westbrook, Title I Reading Teacher, Hamilton, 10 years
Joan  White, Learning Disabilities Teacher, Hamilton, 10 years
Ronald Wigdal, SPED TA, Logan MS, 22 years
Michelle Wozney, Executive Assistant, Hogan, 28 years
JoAnne Zigler, Kindergarten Teacher, Summit, 23 years