La Crosse middle school students were jumping out of their seats throughout an engaging one-hour presentation aimed at creating a more compassionate school culture and also motivating students to become high achievers.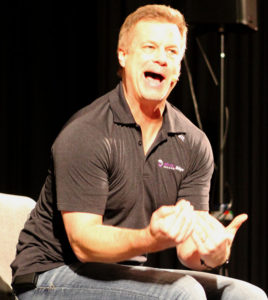 Nationally-known speaker Craig Hillier spoke April 5 at assemblies at Lincoln Middle School and Longfellow Middle School. He spoke March 5 at Logan Middle School — but his appearance at the other middle schools was postponed due to a snowstorm. Hillier's visit was sponsored through a grant from the La Crosse Public Education Foundation.
At Lincoln Middle School, Hillier was introduced by members of the Student Council, who submitted the grant request to LPEF with the help of School Counselor Rick Blasing and Teacher Paula Johnson. Blasing delivered a personal message before turning over the stage, reminding students: "Your teachers love you. It may not feel like it sometimes when they're on your case … but that's what love is … they want you to do your best."
Hillier's entertaining and lively presentation ranged from music trivia, to stories of his own youthful misadventures, to a game of Simon Says — but all with a focus on inspiring students to be better.
He emphasized three things that high-achieving students know and do.
Resilience: Those moments when we fail "can either refine us or define us," Hillier said, adding that students need to think: "I'm bigger than it. It's not bigger than me." Hillier said it's important to take risks and be willing to make mistakes. "Sometimes you have to silence that voice of doubt" and negativity, Hillier told students. "Your decisions determine your direction," he said, adding that "believe it or not, some choices you make in sixth, seventh and eighth grade will be with you the rest of your lives." He urged students to think before acting, and ask themselves: "If I do this, would I be proud to tell anyone else about it?"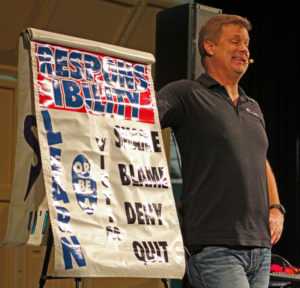 Respect: Hillier said it was up to students to decide the culture in their school. "We hate being judged, but we can be awfully judgmental," Hillier said, focusing his remarks on the need for compassion, especially among fellow teens. It's a fine line between humorous and harassment, he noted — telling students it's good to be able to laugh at yourself and laugh with others, but to know where to draw the line. He said every school has students "who don't have compassion" and he encouraged the audience to think "what can I do for you," rather than "what can I do to you." Hillier said students should recognize "you're not going to be friends with everyone, but you can be friendly" to everyone in your school.
Responsibility: Students can either learn from their mistakes, or they can become a victim. "Mistakes are great moments," Hillier said. A mistake is different than a "reckless moment" where a student makes a bad choice even when he/she knew it was a bad choice.
Hillier previously spoke to La Crosse middle school students about four years ago in another series of presentations sponsored by an LPEF grant.