Retired Logan High School Principal Scott Mihalovic was one of six community volunteers who competed as a "Conductor Wannabe" for the La Crosse Symphony Orchestra. Mihalovic is a member of the Board of the La Crosse Public Education Foundation, and half of the money he raises will go to LPEF in support of Random Acts of Kindness.
The La Crosse Symphony Orchestra (LSO) announced June 6 that the six contestants raised $49,217, with half of the money going to LSO and the other half split among charities the contestants were representing. First place went to Roz Schnick, representing Gundersen Medical Foundation's Hospice Program, who raised an amazing $19,000. Second place went to Chuck Berendes,  representing Shelter Development, who raised $7,849.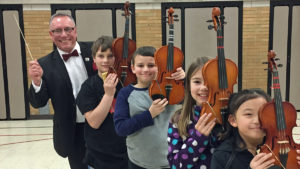 Mihalovic finished a close third in the fundraising, just short of being on stage June 9 to conduct the orchestra. In all, Mihalovic raised $7,442, meaning $3,721 will go to LPEF for Random Acts of Kindness, which provides clothing, nutrition, transportation, academic and co-curricular support for students throughout the School District of La Crosse.
Mihalovic began his musical career at age 7 when he entered – and won – a violin contest. "The prize was a high-fi stereo and was a highlight in my young life that forever shaped my love of learning and music," Mihalovic said. As a teacher and high school principal, I saw time and again what I experienced at that music camp. I saw young people with instruments gain confidence, become leaders, and make a difference in their school communities."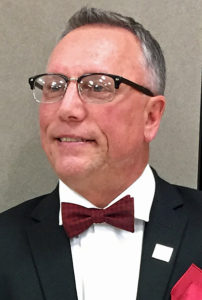 Mihalovic, who joined the LPEF Board in 2016, retired from the School District of La Crosse in 2014, after 32 years as a teacher and administrator, including 28 years at Logan High School, where he was principal from 1998-2014. He is now the educational leadership specialist at Viterbo University.
On April 16, LSO introduced the six community volunteers competing for the opportunity to conduct the orchestra this spring. In the spirit of collaboration and community, LSO asks each of the candidates to choose a non-profit organization that will receive half of the money they each raise during the campaign. Each "vote" is a minimum of $2.00 – one dollar going to the LSO and the other dollar going to the candidates chosen charity.
Other contestants, and their charities, were: Nick Ragner, The Salvation Army; Amy Stodola, HorseSense for Special Riders; and Adam Weissenberger, Trane Park Project and Freedom Honor Flight La Crosse.