When a new student arrived at school without a backpack and other basic supplies, Random Acts of Kindness funds allowed the school to buy the needed items and help the child move seamlessly into her classroom.
When families could not afford to send snacks to school so their children would have something to eat when other students were enjoying a mid-morning break, a school used RAK funds to help.
Whether it is the cost of a school field trip, or a winter coat, or new underwear, or a bus pass — RAK funds are available to help schools fill the need.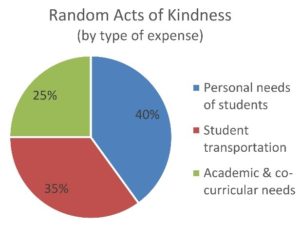 The La Crosse Public Education Foundation's Random Acts of Kindness Fund helps students overcome roadblocks to achievement by addressing critical needs. RAK funds are controlled by each building principal and may be used confidentially to: (1) Meet an individual student's needs for food, clothing, personal health care or special items, such as graduation gowns or prom clothes; (2) Enhance a student's ability to learn, including school supplies or pre-college testing; or (3) Benefit a student whose family is struggling financially by helping with bus passes or the cost of a field trip.
Roughly half of all students in the School District of La Crosse are eligible for RAK help. In 2016-17, LPEF provided nearly $24,000 in RAK funds. Total costs rose sharply as schools reported increased needs and stepped up to meet those needs. Every school but one spent more than the prior year. Spending was up 21% compared to the three year-average. School staff are becoming more proactive in using RAK funds to address student needs, and remove obstacles to school attendance, self-esteem and academic success.

In 2017, several community organizations and businesses — as well as many individual donors — have contributed to the Random Acts of Kindness Fund. Major support has been provided by the Gundersen Health System, with additional grants in 2017 from: the Bob and Jean Marck Family Fund of the La Crosse Community Foundation; Rotary Works Foundation (representing several the area Rotary clubs); the La Crosse Kiwanis Foundation; Longfellow/LDI Middle School students and staff (proceeds from their annual Runnin' for a Reason end-of-year run/walk); Olivet Beacon of Light Lutheran Church; and proceeds from a fundraiser held by students and staff at 7 Rivers Community High School.

You can support Random Acts of Kindness through donations to LPEF.
To make an online donation now, please click the yellow button to go to our secure online donation system. Thank you!