Nearly 80 educators in the School District of La Crosse, along with a key business, a longtime supporter of education and a school principal, were honored March 8 at the annual Grants Award Ceremony of the La Crosse Public Education Foundation (LPEF).
The ongoing pandemic forced some changes to this year's event — instead of the usual mid-January luncheon downtown, attendees gathered for masked-up and socially-distanced ceremonies held simultaneously at Central High School, Logan High School, Lincoln Middle School and Logan Middle School.
The presenting sponsor of the Grants Award Ceremony is Festival Foods.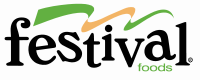 More than 100 people were on hand and spread out for safety at the events, where educators were honored for their work on 43 Gold Star Grant projects awarded during 2020. In all, the grants were valued at more than $90,000.
Local hosts greeted attendees and introduced three videos:
To see the complete list of grant recipients honored at this year's ceremony, download this PDF version of our program. See below for a complete list of sponsors of this year's event – with proceeds going to support the ongoing awards of Gold Star Grants.
This year's award winners were:
Corporate Partner in Education Award – Mathy Construction
For its deep commitment to public education and children's charities, LPEF presented its Corporate Partner in Education Award to Mathy Construction.
Mathy Construction Company, founded in 1945, is an asphalt paving company based in Onalaska. Since its beginning, Mathy has maintained long-held values of demonstrating integrity and excellence in its work. The company has a tradition of helping to build strong communities and the Mathy family and its employees are proud of that culture.
When Taylor Mathy was asked to comment on the company's involvement with LPEF and other charities, she was characteristically modest. She said simply: "We give back because we believe it is the right thing to do. We are committed to the greater good of our communities and support programs in the following categories: education, children, families or individuals in need, and healthcare."
Margaret Dihlmann-Malzer Distinguished Service Award – Rachel Gundersen
In recognition of her passionate support for the La Crosse public schools – and for her service to the community and LPEF – this year's Margaret Dihlmann-Malzer Distinguished Service Award was presented to Rachel Gundersen.
Gundersen is a retired school psychologist and joined the LPEF Board during the foundation's second year, in 1989. She quickly took on leadership roles as vice president and eventually Board president. In addition to her six years as a member of the LPEF Board, she was president of the La Crosse League of Women Voters and was involved in the La Crosse Community Theatre and with the Women's Fund of Greater La Crosse, among many other efforts.
She was valedictorian of her graduating class at Logan High School, and went on to receive her bachelor's degree from UW-Madison. She moved with her husband, Cameron, as he completed his medical training before they returned to La Crosse to raise five sons: Cameron Jr., Gregg, Adolf, Roald and Joshua. As her children aged, Gundersen became aware of increasing pressures on young people in the community and "wanted to help kids lead a healthy lifestyle." She returned to school at UW-La Crosse and received her school psychology degree, joining the School District of La Crosse in 1978 as a school psychologist. She worked in several schools, including returning to Logan High, before retiring in 1993.
In 2018, she created an endowment fund that supports an annual grant related to theater, dance, music and visual art forms, or to support projects in literature, languages, global studies, geography, history, law or a host of other topics in the humanities.
Richard Swantz Leadership Award – Laura Huber
In recognition of strong leadership of Northside Elementary and Coulee Montessori, including promoting equity through a community school model, and for inspiring staff to be trauma-informed educators who help children feel safe and supported, this year's Richard Swantz Leadership Award was presented to Laura Huber.
Huber joined the School District of La Crosse in 2010 after getting her start as a teacher and assistant principal in the Madison Metropolitan School District. She played a leadership role in combining the old Franklin and Roosevelt schools, and led the formation of a new school that opened in 2014 as a home for Northside Elementary and Coulee Montessori Charter School.
Since 2014, she has developed strong partnerships between the school and the community, and helped spearhead the implementation of a community school model at Northside in 2018. The school also has embraced the year-round school calendar, and Huber took a special interest in a collaborative project with UW-La Crosse to create a staff that is trauma-informed and takes extra steps to understand the challenges faced by Northside children and families. Huber has announced her retirement, effective at the end of this school year.
Please support and thank these sponsors of the 2021 Grants Award Ceremony
Presenting Sponsor
Festival Foods
Salute to Educators Sponsor
Fowler & Hammer
Named Grant Sponsors/Corporate Investors
Altra Federal Credit Union
Gillette & Associates CPAs
Independent Cycle & ATV
Mayo Clinic Health System
Modern Crane Service
Mooresmiles
Named Grant Sponsors
Coulee Bank
Dairyland Power Cooperative
FSPA
Gundersen Health System
LHI, part of OptumServe
State Bank Financial
Trust Point
Grant Sponsors/Corporate Investors
First Supply/Gerhards
The Insurance Center
The Potato King
Grant Sponsors
Borton Construction
UW-L Foundation
Xcel Energy
Table Sponsors
Association of School Administrators
Board of Education
GECU – The Friendly Credit Union
La Crosse Tribune
ISG
Stifel
Viterbo University