Annual recognition program for grant recipients set for Jan. 22, 2018
Tickets are $25 and RSVPs are due Jan. 12 for luncheon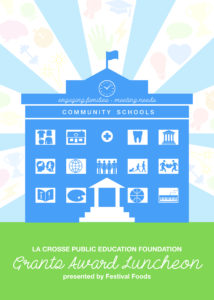 More than 80 educators who have received grants and awards from the La Crosse Public Education Foundation will be honored this year at our annual Grants Award Luncheon, set for Monday, Jan. 22, 2018.
This year's theme is a focus on Community Schools: Engaging Families, Meeting Needs. Attendees will learn how the Community School concept will help Northside Elementary and Hamilton Elementary enhance student learning by developing supports for children, parents, families and community members within the school neighborhood. The Board of Education has approved funding for Community School Coordinators at each school, with programming expected to start by summer 2018. The LPEF Board has approved start-up grants to each school in the amount of $7,500.
In addition to information about implementation at Hamilton and Northside, attendees at the luncheon will hear how the concept is being developed in nearby Rochester, Minn. Our speaker will be Julie Ruzek, Facilitator of Family and Community Engagement, Rochester (Minn.) Public Schools.
The program highlights recipients of nearly $33,000 in grants awarded last April, and another $42,000 in grants awarded in early December.  The Foundation also will provide special recognition to the following supporters of LPEF and public education in our community:
Corporate Partner in Education, presented annually to a business with a deep commitment to public education in our community — Coulee Bank for its long-standing support of LPEF and other children's charities.
Leadership Award, presented annually to an individual who has demonstrated great service, passion, and leadership in support of our public schools — Joe Ledvina, the District supervisor of buildings and grounds, for his diligent work on behalf of taxpayers and his support of LPEF.
Margaret Dihlmann-Malzer Distinguished Service Award, presented in recognition of service to the community and to the La Crosse Public Education Foundation — Tom and Judy Sleik, longtime volunteers and former board members of LPEF.
DETAILS AND RSVP INFORMATION: The luncheon will be held from 11:15 a.m. to 12:30 p.m. in the Cargill Room at The Waterfront, 328 Front Street South. Doors open at 11 a.m. To RSVP, click on the adjacent RSVP card image, then print and complete the card and send it, along with payment of $25 for each ticket, to:
La Crosse Public Education Foundation, PO Box 1811, La Crosse, WI 54602.
Or you may contact our office at (608) 787-0226, or email Executive Director David Stoeffler at david@lacrosseeducationfoundation.org