Recipients of 54 grants worth more than $86,000 honored at 2020 Grants Award Luncheon
Speaker reminds teachers: 'You have an impact far beyond the lessons that you teach'
More than 70 teachers – and one student – were honored Jan. 21, 2020, for their work to bring innovative ideas to life in classrooms of the School District of La Crosse.
A record crowd of about 275 people attended the annual Grants Award Luncheon of the La Crosse Public Education Foundation. Award winners, District staff and community members joined for a celebration of education at the festive event held in the Cargill Room at The Waterfront.
Darryle Clott, a longtime English teacher and Holocaust educator, was the featured speaker talking on "Teachers Inspire," which she has adopted as the theme for her year as 2019 Mrs. Oktoberfest.  Clott is an associate of the Ethics in Leadership Institute at Viterbo University and helps coordinate the college's annual Holocaust educator workshops. She retired in 2004 from teaching at La Crescent High School, but started her teaching career at what was then Longfellow Junior High School in La Crosse.
Clott began by saying how "overwhelmed" she was with the whole Grants Award Luncheon, and the attention showered on teachers. "I love to see people get the admiration they deserve, and teachers so often don't."
She said she chose the "Teachers Inspire" theme because of the important role educators play in the lives of their students. "Teachers, you know that every day, you are teaching much more than academics in the little things that you do. The welcoming smile you share as your kids walk into the classroom. The high expectations, which you set for every student differently. The special things that you make students feel valued for. You have an impact far beyond the lessons that you teach every day."
Clott shared several stories about her time as a teacher and the work she did to engage students. "I believe all of us learn best when we're having fun, so I tried to make my classes fun."
"Teachers do so much more beyond academics. … along with academics, we inspire our students to become successful adults. We play a positive role in kids' lives. It often is the messages that we convey through our actions that speak louder than academics. We teach our students, "It's OK to make mistakes," but what happens next is what's really important. We teach responsibility, hard work, kindness, life skills and much more. We have an impact long after they have forgotten who the U.S. president was in 1875." (After quizzing the crowd and getting no answer, Clott reminded people it was Ulysses S. Grant).
Clott challenged her students to provide positive feedback to peers and teachers, using "I like …" notes — and she offered the luncheon audience copies to share.
As Mrs. Oktoberfest, she recounted hearing from former students, including a woman she had not seen since having her in a class in 1990. She said the woman hugged her in the reception line at the Mrs. Oktoberfest dinner and said: "I would not be the person I am today without you. … She saw me as a role model. A strong, independent woman with an adventurous spirit." Similarly, at the American Legion event featuring an 80-pound bratwurst, Clott described meeting Gary, who she described as 6-foot-7-inch man who approached her and said simply: "You. Shaped. My. Life." Gary broke down in tears in explaining how Clott influenced him when she was teaching at Longfellow in her very first year.
"In my entire life in education, I am quite sure I will never be affected by anything as much as that," Clott said of her encounter.
Clott closed by challenging the group to "pay it backward, not forward" by reaching out to "an educator, a mentor, a coach who inspired you. … What if everyone in this room reached out to someone who made a difference in your life? Who is that person who inspired you? Please let them know."
Recognition of award winners
The annual Grants Award Luncheon highlights recipients of more $36,000 in grants awarded last March, and another $44,000 in grants awarded in December, plus some other designated and "Wish List" grants awarded throughout the year. The Foundation also provided special recognition to the following supporters of LPEF and public education in our community:
Corporate Partner in Education — Trust Point for its long-standing support of LPEF and other children's charities.

Margaret Dihlmann-Malzer Distinguished Service Award — Tammy Larson, who retired from the LPEF Board in December after serving seven years.
Richard Swantz Leadership Award — Mark White, director of human resources for the School District of La Crosse, for his longtime work as a principal and leader advocating for students, teachers and parent involvement in the schools.
In addition, Superintendent Randy Nelson, who has announced his retirement from the District effective at the end of the school year, was honored with a surprise Richard Swantz Leadership Award, which was presented by Dave Skogen, chairman of the board of Festival Foods.
The Leadership Award, which is presented annually to a District administrator who has made a significant difference through his or her work, was renamed this year in honor of former Superintendent Richard Swantz, who died in October 2019 at the age of 84. Swantz was a co-founder of LPEF in 1988. The new award was introduced by LPEF Board Secretary Kathie Tyser, and by Swantz's son, Tony, who is a teacher in Fort Atkinson.
For more information on the special award winners, please see: Celebrating our volunteers and partners.
VIEW PHOTO GALLERY from the 2020 Grants Award Luncheon, with photography by Diane Gebhart
Grant recipients honored came primarily from two rounds of grants announced last year by the Foundation, but included some additional grants awarded through special support from endowed funds, as well as other projects. (View a PDF presentation of all grant recipients and award winners honored at the luncheon.)

Two retired educators were saluted during the ceremony, with special support from Fowler & Hammer. Heidi Morris retired from North Woods International School in June 2019 after 19 years of service to the School District of La Crosse and 32 years as a teacher. Dr. Tom Thompson retired from the Board of Education in April 2019 after 15 years on the school board and more than 30 years of total volunteer service in the District. Tom is now a member of the LPEF Board.
In honor of Heidi, a grant was awarded to former colleagues at North Woods – Tara Schuttenhelm, Leah Justin and Nicole Brudos. Their grant funds the purchase of materials to create "Investigation Kits" for International Baccalaureate students to explore upcoming units and develop their "wonder" questions about what they would like to learn.
In honor of Tom, a grant was awarded to Sonya Mahlum at Hintgen Elementary School. Her grant allows the purchase of materials to build sound-absorbing panels for the gymnasium at Hintgen, and decorate the gym with inspirational tapestries.
The La Crosse Public Education Foundation has been supporting La Crosse public schools for more than 30 years. The Foundation provides classroom grants, staff development money and other support for students – funding programs and projects that are not covered by tax-dollars. In all, the Foundation expects to provide more than $300,000 in support this year to the School District of La Crosse.
The Foundation's work would not be possible without the generous support of many people, including these luncheon sponsors: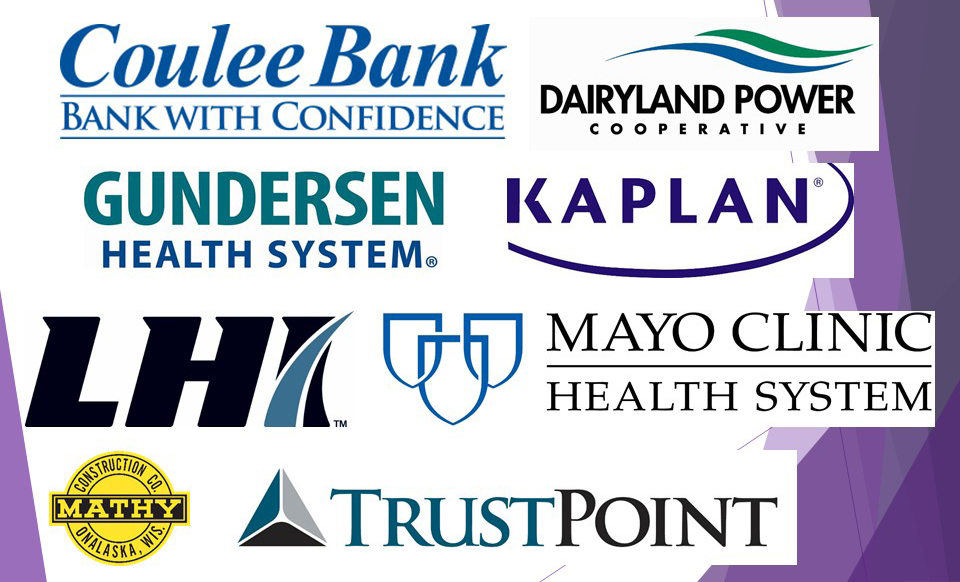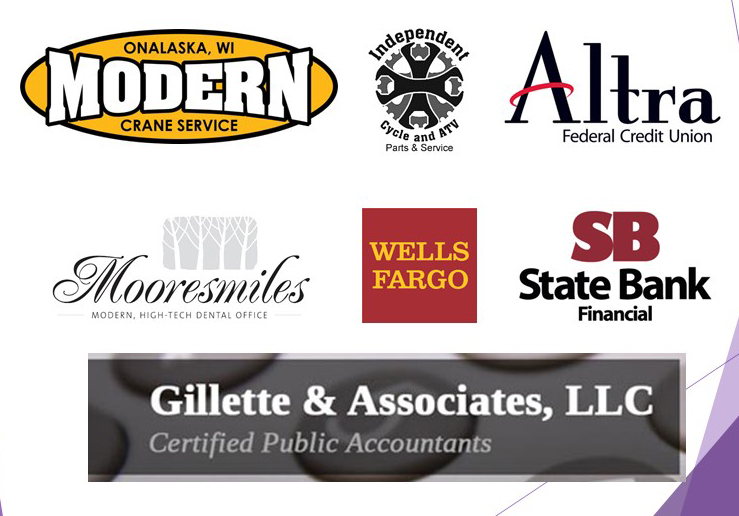 Presenting Sponsor: Festival Foods.
Salute to Educators Sponsor: Fowler & Hammer
Named Grant Sponsors: Coulee Bank; Dairyland Power Cooperative; Gundersen Health System; Kaplan Professional Education; LHI; Mathy Construction; Mayo Clinic Health System Franciscan Healthcare; and Trust Point.
Corporate Investors/Named Grant Sponsors: Altra Federal Credit Union; Gillette & Associates CPAs; Independent Cycle & ATV; Modern Crane Service; Mooresmiles; State Bank Financial; and Wells Fargo.
Grant Sponsors and Other Corporate Investors: Borton Construction; First Supply/Gerhards; News 8 WKBT; Potato King; The Insurance Center; University of Wisconsin-La Crosse Foundation; US Bank; and Xcel Energy.
Table Sponsors: Association of La Crosse School Administrators; Board of Education, School District of La Crosse; G.E.C.U. The Friendly Credit Union; ISG; Johns, Flaherty & Collins; La Crosse Education Association; La Crosse Glass; Stifel; Viterbo University; Western Technical College; and La Crosse Tribune.
Teacher Sponsor: Dahl Automotive.