Students and staff and Longfellow Middle School are celebrating the installation of a permanent exhibit of tiles from the La Crosse Compassion Project.
Students at Longfellow/La Crosse Design Institute were among nearly 6,000 who participated during the 2013-14 school year in the Compassion Project.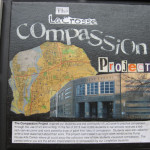 The project culminated in an eight-week exhibit at the Pump House Regional Arts Center. The Compassion Project was a joint effort of the La Crosse Public Education Foundation, the School District of La Crosse and the Pump House.
In fall 2013, participating students received a 6-inch-by-6-inch canvas art panel and were asked to draw or paint their idea of compassion. Additionally, students were asked to write a brief statement about their work. The project aspires to teach the practice of compassion through the use of art and writing.
At Longfellow, the new display — in a sunlit stairwell — features the work of more than 300 students. The effort to install the tiles was championed by Principal Penny Reedy.
For comments from students and more, see this story from WKBT: Compassion tiles to hang permanently on La Crosse middle school walls