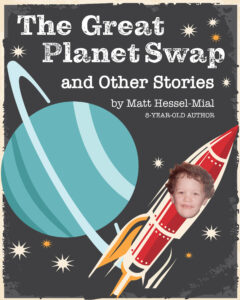 LPEF lost a great friend and former Board member in June with the passing of Susan Hessel, who died of breast cancer at the age of 67. Friends donated more than $1,000 to LPEF in memory of Sue, who was a strong advocate for public education, for teachers, for reading and writing, and for kindness. (In the picture above, Sue posed with staff at Hamilton Elementary School wearing "Be a Kind Human" T-shirts she helped promote as a fundraiser for LPEF.)
One of her last projects was working with a friend to update and reprint a book, "The Great Planet Swap and Other Stories," written by her son, Matt, who died of leukemia at age 9. The District holds an annual creative writing contest in his honor.
All proceeds from sales of the book will go to LPEF.
Search Amazon for "The Great Planet Swap" by Matt Hessel-Mial. The cost is $15.