UPDATE: See news coverage from News 8 WKBT on David Marck's announcement: "… My sisters and I wanted to get a great piano in a great space to facilitate great performances, and we hope to do that."
Logan Middle School students are in for a musical treat on Sept. 7 — and La Crosse music lovers will get good news as well.
David Marck, a La Crosse native and acclaimed New York-based jazz pianist, will provide 6th-grade students at Logan Middle School with a jazz music workshop on Sept. 7, highlighting both American and African music.
The workshop is also a celebration marking major progress in a special effort to secure funding for a grand piano for the Logan Middle School Auditorium. The piano is much-needed to provide North Side schools with an instrument to match their high-quality music and drama performances.
David Marck has pledged $10,000 from the Bob and Jean Marck Family Fund — if the School District of La Crosse and La Crosse Public Education Foundation were able to raise $10,000 by Labor Day.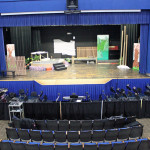 The School District of La Crosse has been gradually working to restore the Logan Middle School Auditorium with improved sound and lighting. The auditorium is increasingly used as a performance site for Logan High School bands and choirs, due to the lack of a similar space at the North Side high school that opened in 1979.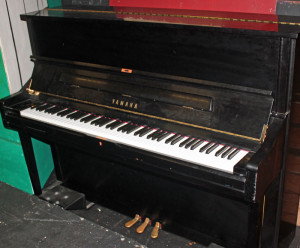 Currently, the only piano available is an upright piano, which is not acoustically loud enough to be heard over large instrument ensembles, nor is it suitable for collegiate or professional use.
In 2015, David Marck had the opportunity to tour the Logan Middle School Auditorium and see first-hand the potential for a grand piano for the great hall. His family pledged $10,000 in matching funds to come from the fund established at the La Crosse Community Foundation in memory of his parents. Bob and Jean Marck were the longtime owners and operators of Community Camera in Downtown La Crosse. Bob Marck passed away in 2010 and Jean in 2013.
The auditorium was part of the original Logan High School building constructed in 1939. In addition to refurbishing the sound system and improving lighting, the dressing rooms, green room and storage space have been reclaimed. The orchestra pit has been uncovered and used for productions. Additional renovations are planned in coming years.
If a grand piano is purchased, the District will provide for secure storage on the stage in the auditorium.
Having a grand piano will enhance the education of young musicians at Logan Middle School and Logan High School – giving them an opportunity that is already available to South Side students through use of a grand piano at Central High School.
The instrument also will allow the District to host collegiate bands, choirs, orchestras and military ensembles that are on tour – and provide a community space that could bring in added revenue, as well as support the District's vision for quality music for all students.
Gifts may still be made to support purchase and installation of the grand piano. Make checks payable to the La Crosse Public Education Foundation, and mail them to the Foundation at: P.O. Box 1811, La Crosse, WI 54602