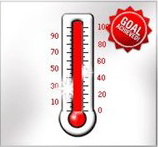 Summary: Your donation can match Hamilton school funds to buy Hokki stools to test as alternatives to student chairs for those who struggle with "sitting still."
---
Goal: $260   •   Amount raised: $260   •   School: Hamilton/SOTA I Elementary School   •   Sponsor Name: Steve Michaels
---
About My Project: Our current student seating is traditional with desks and chairs for all students. We know that all students are not the same. Some of our more disruptive students might be acting out because of an inability to do some of the things that we have asked them to do like remaining seated in their chairs.
Some of our colleagues have had excellent results with stand up desks for specific students. Similarly, chairs that require the student to work different muscle groups while at their desks can help them remain focused on staying in their area and concentrating on their work. This project would enable us to pilot the usage of such chairs within one of our 3rd-grade rooms.
Where Your Donation Goes:
Purchase 5 Hokki (15″) stools
(School will provide matching funds to pay for half of total purchase cost of about $520.)
All donations to LPEF are tax-deductible and will be acknowledged via letter. LPEF adds a small surcharge to offset credit card processing fees and related expenses. For more details, see our About section.
If fundraising falls short of the goal, money will be used to fulfill as much of the project as feasible.
If fundraising exceeds the goal, the project will be expanded or money will go to a similar purpose at the same school.