North Woods students hold Read-a-Thon for Random Acts of Kindness
Support the Read-a-Thon: online donation form below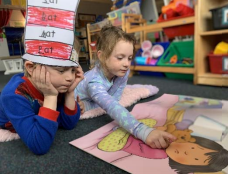 Students at North Woods International School have a special cause this year for their annual Read-a-Thon as they will be raising funds to support Random Acts of Kindness for their fellow students throughout the La Crosse schools. Proceeds will help pay for school supplies, coats, boots, clothing, hygiene supplies and other items for students whose families are unable to afford to take care of these needs.
For more than 15 years, North Woods students and families have staged a Read-a-Thon. Children are encouraged to sign up sponsors to support their reading. The sponsors are asked to pledge a specific amount for an entire day of reading. The event promotes literacy and awareness. The day-long celebration – which includes pajama-clad students settling into corners and safely gathering in circles to read — gets kids excited about reading, but it also gives them a chance to engage with the larger community.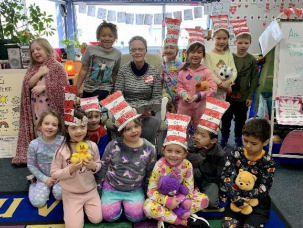 This year's Read-a-Thon fundraising takes place March 8-11, with the Read-a-Thon day set for Friday, March 11. The event coincides with NEA's Read Across America, a year-round program that aims to motivate children to read through events, partnerships, and reading resources. This year's theme is: Celebrating a Nation of Diverse Readers.
Teachers at North Woods this year are choosing to dedicate money raised to support LPEF's new RAK Forever Fund. All of the money will be placed in a permanent, restricted fund – and only income earned will be used each year to offset the annual cost of RAK, which totals around $30,000 a year throughout the District.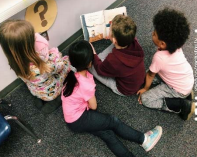 Half of RAK funds went to basic needs like clothing, bedding, laundry, health exams, and hygiene supplies. A quarter of the funds went toward transportation to school, and another quarter for fees to participate in external learning experiences such as field trips.
Each school, including North Woods, has a RAK account. When school staff see a student with a need, administrators write a check to confidentially address it. Those needs are continually increasing, as is the fundraising required to meet them. North Woods spends an average of more than $1,400 per year on RAK.
(To support or honor a specific student, please list the student's name(s) in the "Comments" section at the bottom of the donation form.)