La Crosse school students enjoyed new experiences this spring – from archaeology digs to working with visiting authors and artists — due to grants from the La Crosse Public Education Foundation (LPEF).
"The School District of La Crosse has a motto — 'Dream. Believe. Achieve.' — and our Foundation exists to help turn that phrase into action and allow our schools to fulfill that vision," said David Stoeffler, LPEF executive director.
Here is a sampling of recent projects funded by LPEF grants:
Summit archaeology dig
Students at Summit Environmental School participated in a yearlong study of archaeology, capped off by an actual dig on the school grounds during the week of May 20. They learned about the Native American history of the area and developed skills for excavating and identifying artifacts. The project — funded in part by an LPEF grant — was done in cooperation with the Mississippi Valley Archaeology Center and results will be recorded with the Wisconsin State Historical Society.
Logan High InvenTeam creates energy management system for prosthetics
An LPEF grant helped fund a high-level engineering project at Logan High School as students invented a device to harvest kinetic energy from human motion to generate and store electricity for prosthetic limbs.
The Logan High students will demonstrate their work in June at EurekaFest at the Massachusetts Institute of Technology in Cambridge, Mass. Logan was one of 15 schools to be selected for the Lemelson-MIT Program, which aims to inspire youth and encourage creativity and problem solving.
An estimated 2 million Americans are amputees and about 185,000 new lower extremity amputations occur each year in the U.S. The Logan invention — which the school hopes to patent — provides an energy harvesting system to extend the battery life for vacuum socket units that are installed above and below knee prostheses. By harvesting the energy from heel strikes while walking, the system aims to extend the batter life beyond 24 hours, allowing users more freedom.
RELATED MEDIA COVERAGE
Logan High School students create self-sufficient prosthetic limb • WXOW •  May 22, 2019 (supported by LPEF grant)
La Crosse Logan students show off completed prosthetic limb • WKBT •  May 22, 2019 (supported by LPEF grant)
Hamilton students creating their "future stories"
In a series of visits this spring, Ajamou Butler is helping Hamilton Elementary School students imagine their futures — and create notebooks exploring themselves and capturing their hopes, dreams and purpose. Butler is founder of Heal the Hood, which is committed to healing the hearts, homes and neighborhood of Milwaukee.
Students in 3rd through 5th grades engage with Ajamou on a variety of activities and then create picture books where the students are illustrators of their own story. Students may also perform a rap based on poems they create.
The goal is to help students learn about successful individuals who look like them, and to think more about the long term — setting goals to help them fulfill their purpose. An LPEF grant helped pay for Ajamou's visits.
3rd-graders experience compassion exhibit at La Crosse Children's Museum
Students from 3rd-grade classrooms throughout the School District of La Crosse were able to experience a special exhibit at the La Crosse Children's Museum as a result of an LPEF grant. "XOXO: An Exhibit About Love and Forgiveness" included a variety of interactive stations aimed at helping students develop compassion, respect, kindness, inclusion, love and forgiveness.
Graphic novelist Gene Luen Yang captivates students and encourages reading
An award-winning author had students laughing and cheering about characters brought to life through books, including his own graphic novels aimed at children and teens. Gene Luen Yang visited all of the district middle schools and high schools, and also spoke at the La Crosse Public Library in a visit sponsored by community groups and LPEF.
Yang is a recent National Ambassador for Young People's Literature and his focus is on encouraging "Reading Without Walls" to explore the world through reading. He encourages students to get outside their comfort zone — to read books about characters "who don't look like you," and about topics "you don't know much about." He sees books, including his own graphic novels, as a way to explore diversity in our culture.
Visiting artist brings a SMILE to State Road, community partners
For students and staff at State Road Elementary School, artist Bren Bataclan brought much more than a mural to their school hallways.
His visit brought smiles to their faces, and to the faces of community partners at Trust Point and the La Crosse Tribune as students delivered drawings and messages to both businesses aimed at encouraging people to smile at random people more often.
Bataclan is known as the "SMILE ARTIST" for his quirky paintings and murals with creative characters that are easy for him to teach students to draw and paint themselves.
Carrie Quick, a 5th-grade teacher who coordinated the visit and obtained an LPEF grant for Bataclan's work wrote: "It was a joy to have Bren in our school for a week. We developed a connection with him that he's never had with a school before … It's been such an unexpected and powerful experience to go through."
Elementary schools now outfitted with their own sets of West African drums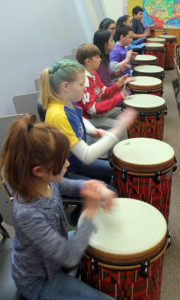 An LPEF grant in 2002 helped the School District get started with a set of West African-style drums that could be shared across nine elementary schools. Schools have built upon that to buy more drums over the years — and now, another LPEF grant has helped complete sets so that every school has its own drums.
"Bee Aware" artist helps students create molten beeswax artwork celebrating pollinators
Jodi Reeb visited Summit Environmental School in April 2019, helping students work with a unique art form as they learned about the importance of pollinators. The result was a honeycomb collage made up of hundreds of 4×4 hexagon tiles decorated using encaustic (molten beeswax) printmaking and painting techniques.