Travis is really concentrating now. Looking carefully at the words on the page, picking up visual clues and hearing hints from Miss Deborah.
The Hamilton 1st-grader has been fidgeting during this morning session at a hallway desk with Deborah Nerud, but he's more engaged since he selected the book, "Jack And The Box," by Art Spiegelman, in which Jack the rabbit gets a new toy.
"I am not a bad toy. I am a silly toy." Travis reads, sounding out each word from the book and making facial expressions. "It's nice to meet you, Jack."
Travis is one of about 120 students at Hamilton/SOTA I Elementary School involved in a special tutoring program funded by donors to the La Crosse Public Education Foundation (LPEF). The $50,000 gift has allowed the school to hire a dozen part-time tutors like Deborah Nerud to regularly work with students in need of extra reading time.
The donors, who wish to remain anonymous, had volunteered at Hamilton and saw a need for students to have more one-on-one time reading with an adult. They conceived a program to hire parents, senior citizens and others – providing them with extra income while helping students improve skills. At the current rate of spending, the funding should last several school years.
Principal Steve Michaels credits the program – along with other intensive reading support efforts — with helping students improve skills as measured by regular assessments. "Those kids are loving reading and getting time with a caring adult."
"Many of the children don't have people that encourage reading," notes one tutor, Ebony Hyter, who has four children attending Hamilton. "It's giving them extra exposure to people who love to read, and shows them that reading is a great tool to escape."
Travis is one of many students who enjoys the extra attention. He says he likes to read now, in part because Miss Deborah reads to him.
"He's a very smart kid … he just needed help focusing," says Nerud, who has a 2nd-grader and a 4th-grader at Hamilton. The program provides that "special focused reading time that he may not be getting in the class or at home or whatever."
"He likes it when we are collaborative when we read together," Nerud says, "and I know that he's more likely to read if I read first and he hears that I'm already going to do that, but also that we're going to share parts.
"But I would not have been able to learn that if I wasn't here regularly," she adds.
"He also really likes power of choice," Nerud says. "I know he likes graphic novels, and I know that he has a goal for at least three, so I always bring four and I give him that power of choice. I don't know what his situation is, but it's empowering to have the power of choice."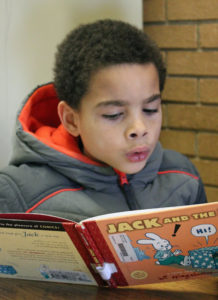 As for improvements, Nerud sayd: "He's paying more attention and he is initiating reading before I have to ask him. When he'll see words, and he will want to read them now, like he'll volunteer it, instead of me asking him to read. … I literally will read it and he will start jumping in. He wasn't doing that at first."
The pay involved in the tutoring program is important. "When kids have, especially the kids that I've been working with, they are expecting me to be here, and that this program can continue to exist that means I am going to continue to give them the consistency of showing up. … It's easier for me to show up with the financial help, knowing that I'm getting paid to do this."
Tutor Ebony Hyter agrees. "The pay does make a difference. I was volunteering for a while, so now that there's some pay involved, it makes it a lot easier to do."
Nerud believes the program provides essential support for students. "There is nothing that can't be achieved through literacy," she says.
For some kids, the reading time is "a respite," allowing them to calm down. Students know "I'm someone they can be themselves around," she says.
"Plus, I do strange accents."