The La Crosse Community Foundation has awarded a $21,000 grant to help kick-start the implementation of the International Baccalaureate program at North Woods International Elementary School.
The grant was made earlier this year to the La Crosse Public Education Foundation, which applied for the funding in collaboration with the School District of La Crosse. The grant specifically will help pay the first-year costs of a part-time coordinator for the program. Teacher Sara DePaolo will be the coordinator.
LPEF also recently awarded a $2,500 Gold Star Grant to North Woods teachers Sara DePaolo and Jessica Hembd to make an initial purchase of multicultural books for use in the IB program.
The District recently announced that North Woods is a candidate for the International Baccalaureate (IB) Primary Years Program and is pursuing authorization as an IB World School starting with the upcoming school year. IB World Schools share a common philosophy – a commitment to improve the teaching and learning of a diverse and inclusive community of students by delivering challenging, high-quality programs of international education that share a powerful vision.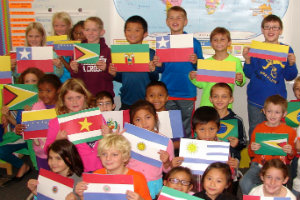 Principal Sandy Brauer and her staff are preparing for specialized training this summer, and are beginning the process of rewriting the school's curriculum to match the IB standards. The process is expected to take three years. The IB Primary Years Program consists of six themes: Who we are; Where we are in place and time; How we express ourselves; How the world works; How we organize ourselves; and Sharing the planet.
"This is an exciting opportunity to continue building unity in our school," Brauer said. "The IB curriculum develops the whole child academically, socially, emotionally, and develops a curiosity and understanding of the world around them, which is what we want for all of our students."
North Woods already offers a strong academic curriculum that integrates global education into daily lessons. The school currently provides two strands: a global strand, integrating traditions, customs, and cultures from around the world; and a Spanish partial immersion strand offering 45% of the school day in Spanish instruction. The IB will unite both strands, bringing together the most successful elements of each, while positioning the school as a unique education option within western Wisconsin.
RELATED MEDIA COVERAGE
La Crosse elementary school joins prestigious global program • WKBT •  April 18, 2018