Community members will have a new opportunity to help instill a love of reading in La Crosse school students at this year's "Give-a-Gift" event at the La Crosse Public Library on Nov. 9. For the first time, the Library is partnering with the School District of La Crosse and the La Crosse Public Education Foundation to provide books for elementary school classroom libraries, putting a variety of great books right at the fingertips of students.
Encourage your friends, neighbors, parents, PTO and school supporters to participate by attending the "Give-A-Gift" event on November 9 from 4 to 7 p.m. at the Main Library, 800 Main St. As a special incentive for supporting this partnership, you will receive an exclusive library gift bag when you donate $100 or more to help purchase books for the District.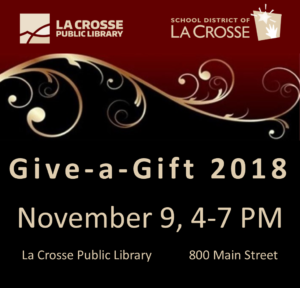 Since 2003, "Give-a-Gift" has been the Library's signature fundraising event. For a few hours, the Library at 800 Main Street is turned into a festive wonderland with displays of pre-selected new books on a variety of subjects, for all ages. Donors browse the displays, select and purchase titles, and donate them to the library.
Through a collaborative effort, donors this year will have a chance to buy books to stock the shelves of 5th grade classrooms in the School District of La Crosse. Hundreds of books will be available for attendees to donate in honor of someone special. The partners plan to continue this effort in the future and each year a different grade level will be featured until the need for classroom library books is met.
"The La Crosse Public Library is delighted to partner with the La Crosse School District on this year's Give-A-Gift fundraiser," said Library Director Kelly Krieg-Sigman. "This lovely event is a great opportunity for our two public institutions to come together and share in our dedication to promote reading and learning both in and out of the classroom."
"Classroom libraries are so critical to supporting and enhancing our students' love of reading.  Yet,  in an era of fiscal constraints, it is is often a challenge keeping a classroom  library up-to-date," said Rob Tyvoll, supervisor of academic programs and staff development for the School District of La Crosse. "A well-developed classroom library provides a range of titles and topics that allows students to access the high interest, academically relevant texts they can't wait to read!  And there are few things more valuable in the educational process than instilling the love of reading in a child.  The fact that classroom libraries are easily accessible, cover a range of reading levels, and are specific to a classroom means that students can always be assured of having these books on hand.  They are a powerful resource toward advancing literacy in our young readers!"
"La Crosse is a community of readers and this is a great opportunity for Library patrons to share their joy of reading with youngsters in the La Crosse public schools," said David Stoeffler, executive director of LPEF. "Our thanks to the Library for opening up this opportunity to partner with them and the district to bring new books directly into school classrooms."
If you are unable to attend, you may send a donation to either the Public Library or the La Crosse Public Education Foundation. Please note on your check that you are wanting to support the 5th grade classroom libraries.
Mail your check to: La Crosse Public Library, 800 Main St., La Crosse, WI 54601.
Or mail to: LPEF, PO Box 1811, La Crosse, WI 54602.