With support from fundraising led by the La Crosse Public Education Foundation, the AVID program reports strong first-year results at Central and Logan.
AVID is making a difference in the lives of almost 100 students in La Crosse high schools, providing them with the encouragement and academic preparation to turn college dreams into reality.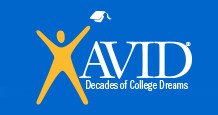 That's the overall conclusion of a report prepared by the La Crosse Public Education Foundation (LPEF) on implementation of AVID – Advancement Via Individual Determination – which has completed one full year, serving 9th and 10th grade students at La Crosse Logan and Central high schools.
In the first year, key objectives were achieved – in the diversity of the students involved and in their academic progress. During the upcoming 2015-16 school year, added sections in 9th grade mean AVID will be offered for grades 9-11, with AVID offered at all four levels beginning in the 2016-17 school year. When fully implemented, the program is expected to serve more than 300 students a year.
Start-up costs for the program are being covered through a $225,000 fundraising campaign led by LPEF. A $125,000 three-year grant from the Otto Bremer Foundation of St. Paul, Minn., leaves $100,000 for LPEF to raise through a community campaign.
(Find links to local media coverage of AVID at the end of this story.)
Among key results in the first year:
At both schools, AVID students were more likely to be students of color and students from low-income families, fulfilling a goal to reach students who are under-represented in college enrollment and graduation rates. At Central, 44% were students of color, compared to 20% for the entire school. At Logan, 60% were non-white, compared to 27% for the school. Two-thirds of AVID students were from families who qualified for free-reduced price lunch.
All AVID students are on track to graduate and the average GPA was significantly higher than for non-AVID students. At each high school, the average GPA was just over 3.2 on a 4.0 scale. The average GPA for all students at both high schools is just under 2.9.
Average attendance rates for AVID students was greater than 96% — about 1 to 2 percentage points higher than the rates for non-AVID peers.
Principals at both high schools could see the excitement of students – and staff – for AVID.
"The most challenging part of the implementation was increasing the expectation and rigor for students who have never been expected to learn at high levels," said Central High School Principal Jeff Fleig, who also serves as district director for AVID. "The students struggled with this expectation, but by the end of the year they were beginning to see the benefits and more importantly they were starting to believe in themselves."
"When you talk to students or sit in the classroom, you can feel the energy and excitement – and just how much confidence they are gaining," said Logan High School Principal Deb Markos.  "They are getting prepared not just for college, but also for life."
AVID-trained educators teach skills that help students succeed in college. Students enroll in an AVID Elective Class each semester. They learn specific skills for organizing the work in all of their other classes. They learn specific writing, inquiry, and critical thinking skills, along with note-taking and study skills that are proven to aid with retention and higher-level thinking. These skills are applied to their subject-area classes. In addition, students participate twice each week in tutoring sessions that emphasize collaboration and group problem-solving skills in high demand in today's workplaces.
AVID helps students set high expectations. Students are required to take at least one advanced-placement or honors class and are encouraged to do so every semester. Students also receive exposure to college through campus visits and through class presentations from colleges, community members and alumni. As juniors and seniors, they learn more about the college application process, including help with writing letters or essays, completing pre-college testing, and applying for financial aid and scholarships.
Students say AVID is different from other classes and gives them a sense of community. At an end-of-year picnic, hosted by Festival Foods Chairman Dave Skogen and his wife Barb, students from Logan's classes shared what AVID has meant to them this past year. Among the remarks:
"It challenged me to come out of my shell."
"It taught me a lot about college and things I actually might like to do as a job."
"It helped me deal with family problems – I have a lot of problems at home."
 "It is allowing me to build that foundation for success … not that anyone can do (for me), but that only myself can do."
Skogen has visited and spoken to the AVID classes at Logan, sharing his life experiences and some of the key characteristics needed to succeed in business, and in life. His message reinforces the AVID program's key points about self-reliance and overcoming obstacles
Festival Foods is among local businesses and organizations contributing to an ongoing fundraising campaign seeking to raise $100,000 from community sources to support initial implementation of AVID. The La Crosse Community Foundation kicked off local fundraising last August with a $30,000 gift. Other local contributors thus far include: Dairyland Power Cooperative, Fowler & Hammer Fund, Gundersen Health System, Mayo Clinic Health System – Franciscan Healthcare, the Rotary Works Foundation, the Russell and Vera Smith Foundation, and State Bank Financial. Additional contributions have been made by Greg and Beth Bonney, and by Fred and Sue Heuer.
The Franke Foundation has provided a challenge grant, pledging a gift of $25,000 if LPEF is able to raise a total of $45,000 from community sources other than the La Crosse Community Foundation.
To pledge your support, call (608) 787-0226 or send a check to: LPEF, PO Box 1811, La Crosse, WI  54602. Or use our online Donate Now platform by clicking the yellow button below:

The program involves significant start-up costs due to teacher training, purchase of curriculum materials and support for tutoring. More than half of the initial cost will be covered by a $125,000 three-year grant, announced in August 2014, from the Otto Bremer Foundation of St. Paul, Minn.  By covering initial expenses, the School District of La Crosse will have time to absorb the lower, ongoing cost.
LPEF is a 501(c)(3) organization founded in 1988 by a group of forward-looking La Crosse residents who were passionate in support of public education. Our mission is to enhance learning opportunities for students in the School District of La Crosse and to promote community understanding of public education. In 2015, LPEF expects to provide more than $150,000 in support of district schools, through classroom grants, support for staff development and programs to meet the needs of individual students and help them overcome barriers to success, including poverty-related issues.
RELATED MEDIA COVERAGE
Foundation reports successful first year for AVID, seeks $100,000 in community support • La Crosse Tribune • Aug. 21, 2015
La Crosse School District's AVID program celebrating successful first year  • WKBT • Aug. 20, 2015
Local high schools use an academic program to prepare students for college and life  • WXOW • Aug. 20, 2015