Link to regular Thank  Your Teacher page
Honor District retirees with a gift to support our schools

The La Crosse Public Education Foundation (LPEF) is pleased to join with the School District of La Crosse in saluting retiring teachers and other staff members. See a detailed list below.
These 48 staff members have combined for 1,265 years of service to students in the School District of La Crosse.

With support from our Salute to Educators Sponsor Fowler & Hammer, LPEF helps to underwrite the cost of the District Retirement Dinner,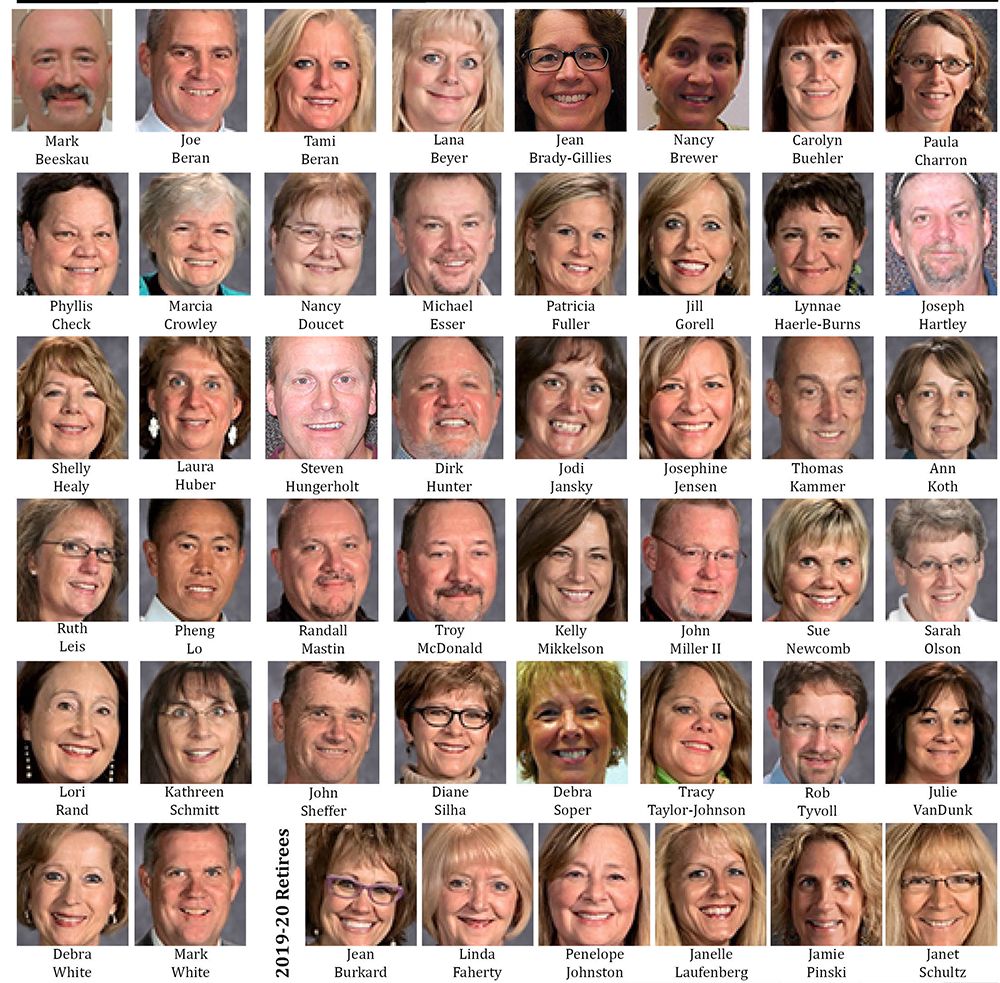 and also partners with the La Crosse Tribune to publicly recognize retiring employees in a full-page ad published in mid-May.
Former students, colleagues and friends looking for a way to honor and recognize these people for their dedicated service to education may want to consider a gift to LPEF. We've created a special recognition program to encourage these types of lasting gifts.
For each gift of $35 or more, we'll provide the retiring staff member with a complimentary ticket (limit 4) to our Grants Award Luncheon in January each year.
The retiree honored with the greatest number of gifts (by June 30, 2021) will be recognized at the Grants Award Luncheon – and a classroom or staff development grant will be awarded in his/her name.
For information and form to submit your gift, download our special flyer.
Retirees, most recent position and years of service to the School District of La Crosse
Mark Beeskau, custodian, Spence Elementary School, 15 years (retired January 2021)
Joe Beran, activities director, Central High School, 31 years
Tami Beran, teacher, North Woods International School, 32 years
Lana Beyer, administrative assistant, Central High School, 29 years
Jean Brady-Gillies, teacher, Emerson Elementary School, 30 years
Nancy Brewer, teacher, Southern Bluffs Elementary School, 31 years
Carolyn Buehler, custodian, Southern Bluffs Elementary School, 19 years
Paula Charron, teacher, Longfellow Middle School, 30 years
Phyllis Check, teacher assistant, Emerson Elementary/Northside Elementary, 28 years
Marcia Crowley, teacher, State Road Elementary, 29 years
Nancy Doucet, teacher assistant, Central High School, 20 years
Michael Esser, teacher, Central High School, 31 years
Patricia Fuller, teacher, SOTA I, 22 years
Jill Gorell, teacher, Logan Middle School, 28 years
Lynnae Haerle-Burns, teacher, Lincoln Middle School, 22 years
Joseph Hartley, building engineer, Logan Middle School, 25 years (retired December 2020)
Shelly Healy, teacher, State Road Elementary School, 33 years
Laura Huber, principal, Northside Elementary-Coulee Montessori, 11 years
Steven Hungerholt, custodian, Hintgen Elementary/Spence Elementary, 11 years
Dirk Hunter, principal, Summit Environmental School, 38 years
Jodi Jansky, teacher, Logan Middle School, 27 years
Josephine Jensen, teacher, Summit Environmental School, 35 years
Thomas Kammer, teacher, Logan High School, 38 years
Ruth Leis, administrative assistant, Summit Environmental School, 31 years (retired March 2021)
Pheng Lo, teacher, Lincoln Middle/Longfellow Middle, 26 years (retired October 2020)
Randall Mastin, teacher, Lincoln Middle School, 10 years
Troy McDonald, principal, Central High School, 31 years
Kelly Mikkelson, teacher, Logan High School, 22 years
John Miller II, engineer, Central High School, 37 years
Sue Newcomb, teacher assistant, Logan Middle School, 37 years (retired January 2021)
Sarah Olson, cook, Logan High School, 25 years
Lori Rand, teacher assistant, Summit Environmental School, 22 years
Kathreen Schmitt, administrative assistant, Hogan Administrative Center, 14 years (retired October 2020)
John Sheffer, building engineer, Hamilton-SOTA I, 41 years (retired July 2020)
Diane Silha, administrative assistant, Central High School, 19 years
Debra Soper, teacher assistant, Southern Bluffs Elementary, 17 years (retired December 2020)
Tracy Taylor-Johnson, teacher, Summit Environmental School, 32 years
Rob Tyvoll, supervisor of academic programs, Hogan Administrative Center, 26 years (retired September 2020)
Julie VanDunk, social worker, State Road Elementary School, 32 years
Debra White, teacher, Spence Elementary School, 22 years
Mark White, director of human resources, Hogan Administrative Center, 35 years
2019-20 Retirees not previously recognized
Jean Burkard, teacher, Emerson Elementary School, 30 years
Linda Faherty, teacher assistant, Central High School, 22 years
Penelope Johnston, teacher assistant, Central High School, 14 years
Janelle Laufenberg, teacher, Logan Middle School, 31 years
Jamie Pinski, teacher, Logan High School, 24 years
Janet Schultz, teacher assistant, Spence Elementary School, 24 years