The La Crosse Public Education Foundation (LPEF) is pleased to join with the School District of La Crosse in saluting 39 retiring teachers, administrators, teacher assistants, cooks and others who are ending a career of service to students. Some staff members have already retired, while others will end careers later this year. Altogether, they have served 904 years in La Crosse public schools
See a detailed list below.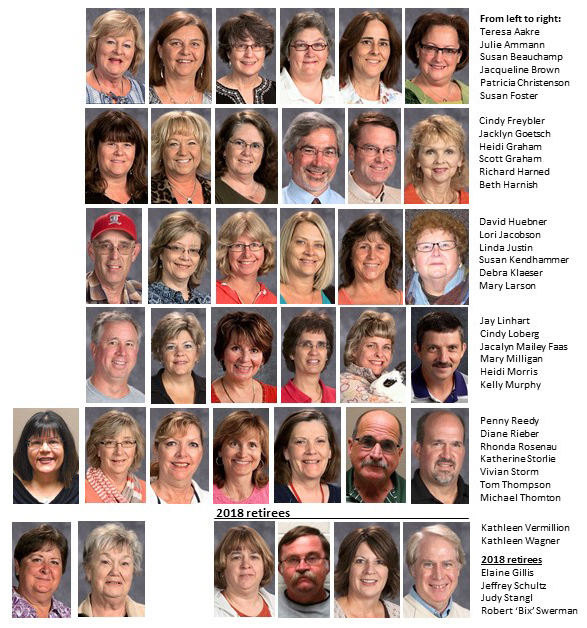 With support from our Salute to Educators Sponsor Fowler & Hammer, LPEF will help to underwrite the cost of the District Retirement Dinner May 8, 2019, and also partner with the La Crosse Tribune to publicly recognize retiring employees in a full-page ad to be published May 12.
Former students, colleagues and friends looking for a way to honor and recognize these people for their dedicated service to education may want to consider a gift to LPEF. We've created a special recognition program to encourage these types of lasting gifts.
For each gift of $35 or more, we'll provide the retiring staff member with a complimentary ticket (limit 4) to our Grants Award Luncheon set for Jan. 21, 2020.
The retiree honored with the greatest number of gifts (by June 30, 2019) will be recognized at the Grants Award Luncheon – and a classroom or staff development grant will be awarded in his/her name.
For information and form to submit your gift, download our special flyer.
Retirees, most recent position and years of service to the School District of La Crosse
Teresa Aakre, teacher, State Road Elementary, 31 years
Julie Ammann, teacher assistant, Summit Environmental School, 27 years
Susan Beauchamp, teacher, Central HIgh, 16 years
Jacqueline Brown, cook, Spence Elementary, 21 years
Patricia Christenson, speech-language therapist, Hamilton Elementary, 27 years
Susan Foster, administrative assistant, Logan High, 25 years
Cindy Freybler, special education teacher, Hintgen Elementary, 11 years
Elaine Gillis, teacher assistant, Logan Middle, 18 years (retired July 2018)
Jacklyn Goetsch, teacher, Emerson Elementary, 30 years
Hollis Grabinski, cook, Logan Middle, 20 years
Heidi Graham, teacher, State Road Elementary, 27 years
Scott Graham, teacher, Summit Environmental School, 29 years
Richard Harned, teacher, Central High, 14 years
Beth Harnish, administrative assistant, Logan High, 24 years (retired January 2019)
David Huebner, groundskeeper, 30 years
Lori Jacobson, library-HPL teacher, State Road Elementary, 13 years
Linda Justin, physical therapist, Southern Bluffs Elementary, 29 years
Susan Kendhammer, teacher assistant, Emerson Elementary, 23 years
Debra Klaeser, teacher, Summit Environmental School, 28 years
Carrie Larson, cook, Central High, 17 years
Mary Larson, Board of Education, 15 years
Jay Linhart, warehouse supervisor, 30 years
Cindy Loberg, cook, Logan Middle, 14 years
Jacalyn Mailey Faas, administrative assistant, Longfellow Middle, 36 years
Mary Milligan, administrative assistant, Logan High, 25 years
Heidi Morris, teacher, North Woods International, 19 years
Kelly Murphy, teacher, Longfellow Middle, 20 years
Penny Reedy, principal, Longfellow Middle, 15 years
Diane Rieber, teacher assistant, Summit Environmental School, 25 years
Rhonda Rosenau, cook, Central High, 26 years
Jeffrey Schultz, custodian, Logan High, 40 years (retired August 2018)
Judy Stangl, executive assistant to superintendent and Board of Education, 10 years (retired November 2018)
Katherine Storlie, teacher, Logan Middle, 29 years
Vivian Storm, occupational therapist, Southern Bluffs Elementary, 18 years
Robert "Bix" Swerman Jr., teacher, Central High 35 years (retired June 2018)
Tom Thompson, Board of Education, 15 years
Michael Thornton, network systems manager, 28 years
Kathleen Vermillion, teacher assistant, Northside Elementary, 17 years
Kathleen Wagner, teacher assistant, State Road Elementary, 27 years