For upcoming generations in La Crosse, AVID is the college-readiness program that provides an equal opportunity at the American Dream.
Read more about the first-year success of AVID in this release:
With help from a community campaign, along with two major grants announced in August 2014, the La Crosse Public Education Foundation is funding start-up costs for AVID in La Crosse Central and Logan high schools.
AVID — Advancement Via Individual Determination — helps La Crosse public school students develop the skills needed to succeed in college. It teaches critical thinking and provides support for meeting high expectations in the knowledge economy.
The AVID program has completed its first full year of implementation at La Crosse Logan and Central High Schools. In particular, AVID focuses on students who might otherwise be left behind, those in the "forgotten middle" and others from economically disadvantaged families and other traditionally underrepresented groups. AVID has a proven track record nationally and has been implemented in more than 4,800 schools.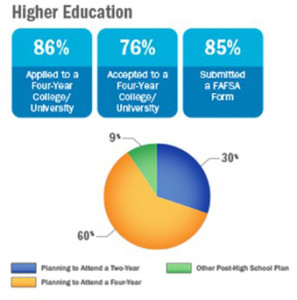 AVID students complete courses for college admission at a rate more than double that for other students. In a 2012-13 study, 93 percent of AVID program seniors completed college entrance requirements and 76 percent had been accepted at a four-year college. Importantly, AVID students succeed and stay in college once they enroll – 89 percent of those who started were still in college two years later.
By comparison, among 2013 graduates in La Crosse public schools (pre-AVID), 58% were in some post-secondary institution the following year.
The program helps students develop skills needed to succeed in college. It teaches strategies for critical thinking, with an emphasis on inquiry and higher-level questioning. Students learn specific writing and critical reading skills, along with note-taking and study skills proven to aid with retention and higher-level thinking. In addition, students participate in tutoring sessions that emphasize collaboration and group problem-solving skills in high demand in today's workplaces. Finally, every participating student is required to take at least one honors class or advanced placement class, and encouraged to take one such class every semester.
'College is like a big step. AVID is breaking it into smaller steps.'
— Logan High freshman
AVID students get a significantly different experience than they would otherwise have encountered in school. Students are interviewed and chosen to enroll in the AVID Elective class. In 2014-15, classes were offered for freshmen and sophomores. In 2015-16, added freshmen sections will be offered as current freshmen and sophomores move up. By 2016-17, the AVID Elective class will be offered to students at all four grade levels.
AVID Video
For a closer look at how AVID is impacting the lives of students in La Crosse Logan and Central High Schools, see this special video prepared by the School District of La Crosse.
Education is key to raising a healthy community.
The La Crosse Public Education Foundation — with support from other foundations and community supporters — is helping stretch limited tax dollars by funding significant AVID start-up costs due to teacher training, purchase of curriculum materials and support for tutoring. By covering initial expenses, the District will have time to absorb the lower, ongoing cost.
As announced in August 2014, more than half of the initial cost will be covered by a $125,000 three-year grant from the Otto Bremer Foundation of St. Paul, Minn. Also, grant funding of $30,000 has been secured from the La Crosse Community Foundation. Additional fundraising will be needed to achieve the goal.Raising these added funds from within the community will assure that other student-centered projects, typically funded by LPEF, will not be jeopardized or delayed.
For more information on AVID, and how you can help make these students' dreams come true, contact:
Executive Director David Stoeffler
La Crosse Public Education Foundation
Phone: (608) 787-0226